What is the visual editor?
The visual editor is a content editor that allows easy editing, creating, and formatting on your blog or WordPress site. This editor acts as the default editing mode of WordPress.com, however if you do not see that it is enabled, you may select the Visual tab in the top right corner of the editor area, as shown below.

There are two rows of editing icons within the visual editor. To find out what an icon means, simply hover over it with your mouse.
Row 1
When initially opened, the visual editor will display a single row of icons:

Bold
Italic
Strike-through
Unordered list (bullet points)
Ordered list
Blockquote (a way of displaying quoted text; each theme will style this differently.)
Align Left
Align Center
Align Right
Insert/edit link
Unlink
Insert More tag
Proofread/Spell Check
Toggle Distraction Free Writing
Show/Hide Kitchen sink (enables the second row of editing icons)
 Row 2
To display the second row of icons, select the kitchen sink icon

Style – various formatting styles defined by your theme
Underline
Align full
Select text color – change the text color
Paste as Plain Text
Paste from Word
Remove formatting
Insert custom character
Outdent – move text further left
Indent – move text further right
Undo – undo your last action
Redo – redo your last action
Help – display some information about using the editor, as well as keyboard shortcuts.
Alignment
Both text and images can be aligned using the appropriate icons:

Styles
The style drop-down menu allows you to change the formatting of any selected text. This includes various headings and other pre-defined styles built into your theme. Note that further style modification requires the Custom CSS Upgrade (and appropriate knowledge of CSS).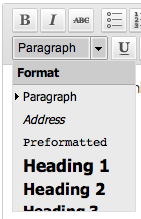 Text Color
To change text color you must first highlight a section of text:

Clicking on the down arrow next to the text color button will display a color selector:

Selecting a color will apply that color to the selected text and make it the default color for the color button. Clicking on the text color button itself will apply the last default color.