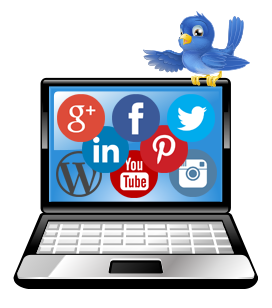 According to a new study, one in six marriages that began in the last three years has resulted from an interaction that started online. At the same time, Nielsen also reports that four out of every five corporations in America are now leveraging social media to help expand their client base and build relationships with customers.
It's no secret that social media is here to stay and that its stake in the success or failure of a business is growing larger everyday. If you're looking to ramp up your own presence and quickly master the art of social media marketing for business, follow these tips:
Learn Management Software
There's an almost limitless supply of social media management apps and tools out there to choose from. Hootsuite and Buffer are good beginner apps that cover the vast majority of social accounts and are easy to navigate, while tools like Narrow.io and Twibble serve more specific functions. The right combination of tools will vary based on your organization's needs and objectives.
Once you choose a social media management software program, take the time to really learn the ins and outs of it. Most people simply use these tools to schedule posts and glance at their feeds, but new features and updates are being added every day that go far beyond the basic functions. If you want to master social media marketing, you'll want to use these to their fullest extent.
Automate Everything
You have better things to do than execute the same repetitive tasks over and over again. When it comes to social media marketing, automation is everything. Here's a short list of some of the tasks you can automate now and no longer waste your time on:
Following people back when they follow you
Retweeting interesting messages on Twitter

TWTR

-2.93%

Mentioning other users in your messages
Responding to direct messages
Automating posts from another expert's website
Posting to LinkedIn

LNKD

+0.16%

, Twitter, or Facebook from another network
The bottom line is this: the more you automate, the more time you have to manage other aspects of your business or create great content for your posts. Simply put, it's a must do for active business owners.
A word of caution: automation is necessary, but being human is still important. Don't fall into the trap of thinking that because you have your systems and processes automated, you don't have to actually authentically participate or engage with people in real-time anymore. Strive to automate while still keeping things personal.
Know Your Numbers
As Marcus Lemonis, of The Profit, frequently says, "If you don't know your numbers, you don't know your business." And when it comes to social media marketing, it's well worth the investment to install the necessary analytical tools to boost the effectiveness of your campaigns.
One great example for Twitter users is The Archivist. This tool allows you to track hashtag campaigns, capture tweets during a conference or sports event, or analyze who you have been mentioned by and how they found you. Use analytical tools like these to track how many followers you've gained and lost each week, which tags are working and why, and what your followers are most interested in, within each network.
Be "Follow" Worthy
Whether it's on Twitter, Facebook, Instagram, Pinterest, Path, LinkedIn, Google+, or another network, no one can turn down 3 things: free stuff, being famous, and being right.
Make your profile worth following on these social networks. Run weekly contests, have a live Twitter debate using your own custom hashtag, or post the best picture from your top followers on your Instagram and Facebook feed each day for the digital world to see. Don't just put up posts to try to grab the attention of others. Make it interactive and fun.
When you do, people will become curious, and you'll be on the fast track to social media success.
Ask for Input
Give your followers the chance to take digital stock in your brand. If you're contemplating a new product or service, let your followers know and encourage them to help you decide. After all, they're the ones you are creating the new product for.
Frito-Lay® is well-known for launching social media campaigns each year, asking their fans to help them create a new potato chip flavor. In 2014 alone, they received over fourteen million submissions to their Do Us A Flavor contest.
Become a Part of Something Bigger Than You
As humans, helping others is something we're naturally drawn towards; in fact, the average American currently donates around 2% of his or her income to charitable causes.
If you're looking to acquire a larger presence in the online community, consider aligning your brand with a higher purpose and ask others to follow suit. TOMS® has become enormously successful with their "one for one" campaign. If I order a burger at McDonald's, I may or may not tell you about it. However, if I buy a burger from a company that automatically donates a dollar of my purchase to solving world hunger, there's a much better chance I'm going to help spread the word.
Don't Be Afraid to Iterate
The thing about social media marketing is that I can sit here and tell you what kinds of things to post – but I don't actually know your audience. And unless you've been consistent about updating your profiles, chances are you don't either.
So for the next 30 days, post whatever updates you think will resonate best with your followers, using the strategies above. But then, look at your metrics using the analytics tools described above and actually use this data to inform your future strategy. If the numbers tell you that your audience doesn't respond well to charity-based appeals, skip them going forward.
No one article can truly make you a master of social media marketing on its own. Your audience will tell you how to iterate your campaigns – all you have to do is listen.
There's no doubt that social media is expanding more and more with every passing day. Already, 73% of all Americans have a social media profile. What are you doing to reach and convert them? If you can't honestly say you're giving social media marketing your best effort, the tips above will help you reach master status in as little as 30 days.
This article originally appeared on Forbes.com. Do you have any other tips for mastering social media? Share your favorite tips and tricks in the comments below: