Login to the Joomla Administration of your website
When logged in select Content > Article Manager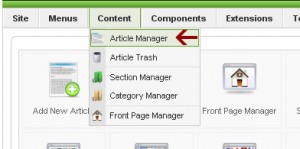 From the Toolbar icon select the New icon.  Once clicked the article editor will open up on screen.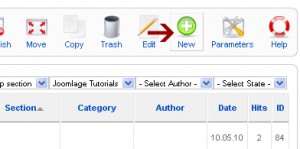 Give your article a title. I will use "My New Article" as the title for this example.  There is no need to fill in the alias field. This will automatically be updated to whatever your articles title is when you save your article.
Now select the Section where you want your article located. For this tutorial we will select section "uncategorised".  Leave Category field as it is.
If you want your article to be published set Published to YES else set it to NO.
If you want it published to the front page set FRONTPAGE to YES.

Now write your article in the editor provided.
For this tutorial we are going to leave all Parameters set to default.  All parameters are self explanatory and can be set to your liking at another time.
Click preview to preview your article.  If you are happy with the out come click SAVE. Your article should now be listed in thearticle Manager in Section-Uncategorised.
These quick tips and more can be found at http://www.joomlage.com/joomla-1-5-tutorials/how-to-create-save-and-publish-an-article-in-joomla